Cost to Add Deck Stairs – 2023 Price Guide
No matter how high from or close to the ground your deck is, you likely need some steps to access it from the outdoors. Adding steps to a new deck or replacing unstable ones on an old one is an essential part of ensuring your deck is safe and sturdy for your household.
We'll cover the cost of adding stairs in more detail below.
2023 Deck Stairs and Steps Costs
Calculate local project costs by entering your zip code.
National Average Price
$

1,750

Typical Price Range
$

1,380

- $

2,520
Get free estimates from contractors near you.
---
---
How Much Does it Cost to Add Stairs to a Deck?
Adding stairs will make the deck much more functional, allowing access to the rest of your yard.
On average, the cost is around $15 to $210 per tread, with an additional cost of $115 to $210 per frame or stringer. This means that a set of stairs for the average deck that requires eight steps, 48″ wide with four stringers, would have a cost range of $1,380 to $2,520 installed.
Doing the project yourself can save on the cost of labor, which can make up 40% to 60% of the project, depending on the materials used. The cost of materials to build a set of stairs with the same parameters as above could run $552 to $1,512.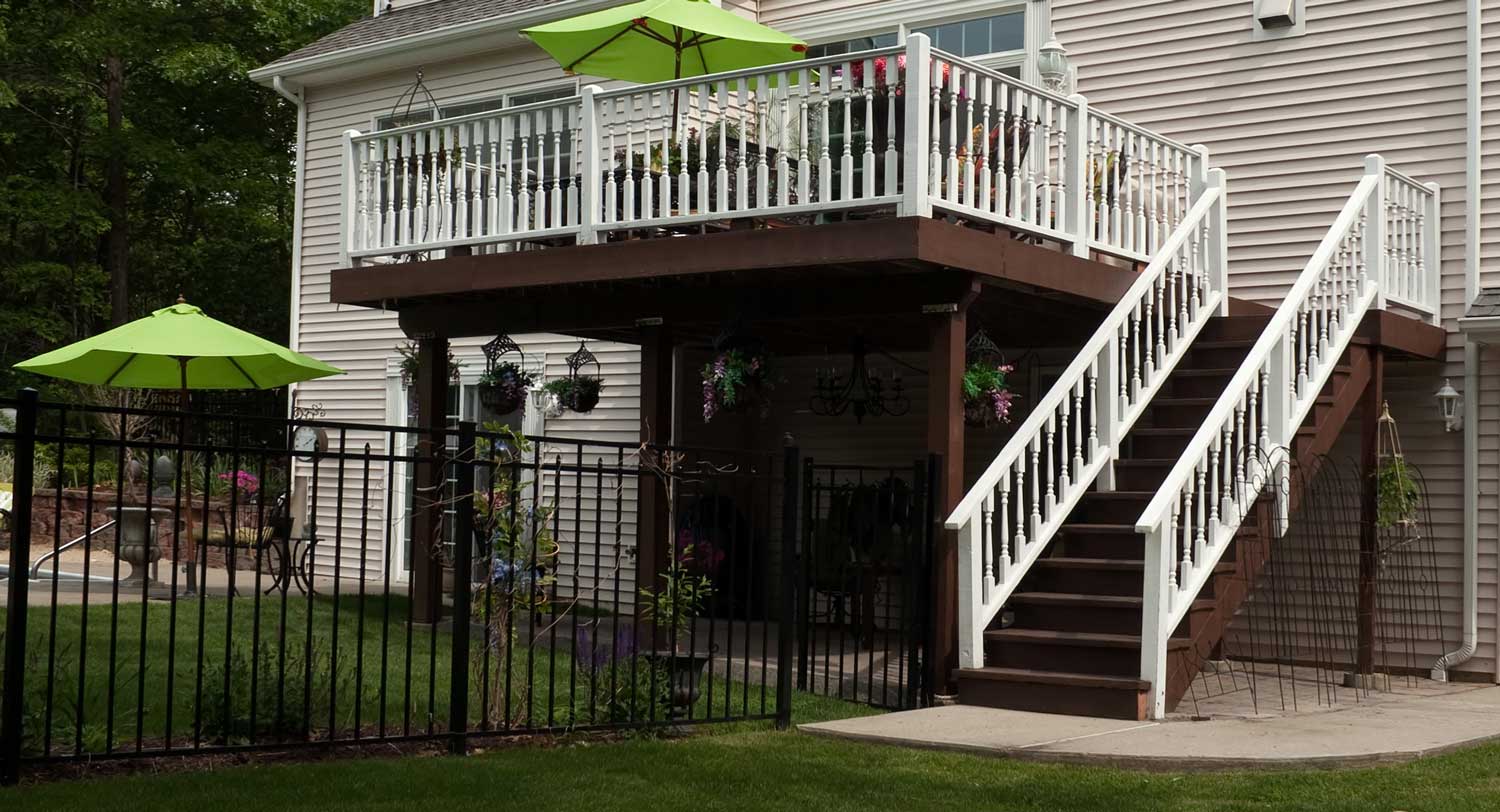 Let's examine factors that can increase or decrease the overall expenditure:
Size of the Stairs
The size of the stairs will directly affect the price of adding them. Adding stairs to a deck that is 10 feet off the ground will be significantly more expensive than adding stairs to a deck that is 3 feet off the ground. The height of the stairs determines how long the stringers, or the boards that support the stairs, need to be.
The width of the stairs is also a determining factor. Stairs should be at least 36″, but making them 48″ will feel less cramped.[1] Wider stairs will require more stringers to support the stairs and more deck boards to finish the treads and risers.
Stringers will cost about $3 to $5 per step, per stringer, and a minimum of 3 stringers will be needed, depending on the width of the stairs.
Type of Deck Materials
The type of deck materials will also impact the cost of adding stairs. Popular materials used for decking in the US include many naturally durable species of timber, such as western red cedar and tropical hardwoods.
Composite decking is also a great low-maintenance option. While composite decking costs much more initially, it costs less in the long run due to lower maintenance costs.[2]
One of the top considerations for consumers in regard to deciding on a deck material is the maintenance required. You might think a particular material is inexpensive, but if it needs expensive maintenance rituals every year, it might not be a solid investment. For example, painting and staining a deck can cost $700 to $1150 or more.
Similarly, a material that seems to be initially the most expensive might prove to be the best value for money when you consider that it only needs a coat of stain every couple of years.
Composite decking and exotic hardwoods will generally cost more than softwoods such as pine and cedar.
Deck Boards
To determine how many deck boards will be needed to complete the treads for the stairs, start with the depth of the tread (how far back the bit you step on goes). Often the deck boards will overhang the tread by 1″ or so, so add that to the depth of the tread.
If there is a space between the boards, subtract that spacing from the depth measurement.
Next, divide the depth by the width of the deck boards being used to determine how many boards each tread will need. Keep in mind that often one or more of the boards may need to be cut to fill the space completely.
Multiply the number of boards by the stair width to find how many feet of decking are needed to complete each tread.
Finally, multiply this by the number of treads to find the total amount of decking needed for the stairs.
Filing in the risers of the stairs will also add to the costs. Adding riser boards adds a nice finished look to a set of steps but requires more material and labor to install.
Many people with children add in risers as a safety measure, as the open area is easy to slide a foot or leg through. Use our deck flooring calculator to find how much decking you'll need for the stairs.
Balusters
Let's not forget that deck steps cannot be installed standalone. It is very dangerous to install steps without taking into account the fact that you need railings and balusters to go along with them. Railings and balusters act as the support mechanism of your deck steps.
Ideally, you should have these decorating the entire perimeter of the decking area for both aesthetic and safety reasons, particularly if your deck is raised more than 18″ off the ground. Some decks are designed as low platforms that only have a single step from the ground.
These decks may not have balusters or railings installed. Therefore, when attempting to calculate the cost of adding steps to your deck, don't forget this essential component of measurement.
To estimate the number of balusters needed for a railing, factor in the overall railing length, the number of posts, and the baluster dimensions to find out how many you need for each section of railing.
Different railing styles vary in price significantly. Aluminum and glass will be much more expensive than a pine railing with pine balusters. Wood and metal railings typically cost between $40 and $60 per linear foot, while composite railings may only cost $15 per linear foot, and vinyl railings usually fall between $20 and $40 per linear foot.
Learn more about the cost of building a deck with our deck cost calculator and price guide.
All pricing information on this page is based on average industry costs, and is subject to variance for project-specific materials, labor rates, and requirements.
References
Decks.com, How to Build Deck Stairs & Steps, https://www.decks.com/how-to/articles/how-to-build-deck-stairs-steps
Freedonia, Wood & Competitive Decking - Demand and Sales Forecasts, Market Share, Market Size, Market Leaders, https://www.freedoniagroup.com/industry-study/wood-competitive-decking-3789.htm