Cost to Refinish a Bathtub – 2023 Average Prices
If your bathtub looks like it has had better days, consider refinishing it to refresh the tired look. Resurfacing a tub can make it look new without the need for a new one.
Use our calculator to estimate the price of the project, or continue reading below to learn more about the cost of refinishing a tub.
Bathtub Refinishing Cost Calculator
Configure your project below to estimate the cost using 2023 price data. Continue reading below to learn more about what to expect for a bathtub refinishing project.
---
---
How Much Does it Cost to Refinish a Bathtub?
How much will it cost to refinish it? The national average to resurface a bathtub is $450.
Most refinishing projects fall between $300 and $1,000, depending on if you DIY or hire a professional, as well as how much the labor will cost in your area if repairs are necessary and how much preparation needs to be done.
Bathtubs come in many different materials, which can also impact costs. Refinishing a porcelain finish on a cast iron tub can cost around $350 to $600, while refinishing a fiberglass tub can run $300 to $1,000.
If your tub needs enamel, expect an additional cost of $350 to $600. The condition of your tub and its size will also factor into the final costs.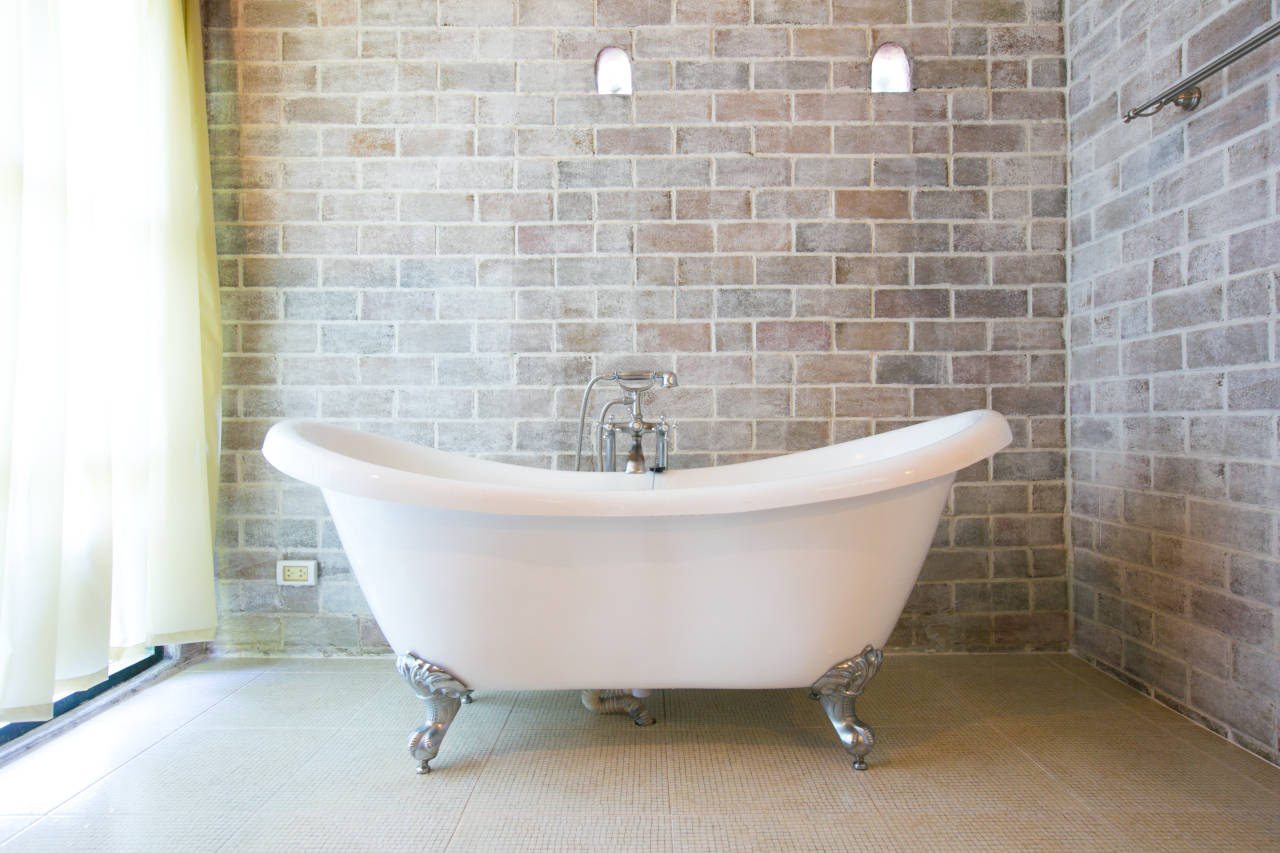 Replace or Refinish?
Because refinishing a bathtub does not require alterations to the plumbing, walls, and tile, it is often much less expensive than a new tub.
Cost to Replace a Tub
Installing a new tub could cost at least $1,000 to $10,000 or more. Cast iron, clawfoot, and jetted tubs cost even more. Replacing a tub requires a new tub basin, fixtures, plumbing, tile surround repair, and possibly flooring repair, making it an invasive and time-consuming project.
Cost to Refinish a Tub
Refinishing is often a bargain over replacing. Plus, that old clawfoot could become the centerpiece of your renovated bathroom after refinishing. In addition, refinishing costs less and is a much faster process taking only a day or two.
Getting your old bathtub resurfaced may include fixing any plumbing problems and doing some research on how long it will take, how long it will last, and whether you can get the color you want from a kit.
DIY Kits
The biggest drawback to using a DIY kit is that it is unlikely you can get the color you want to match the backsplash, tiles, or overall color scheme of the bathroom. What's more, if you do not have any experience doing these, the finish might not be as brilliant as you would like.
The first thing to do is to find a kit. Many of these only come with refinishing paint or epoxy, so you'll want to spend some time looking around to get the best package possible.
Make sure that the kit you choose matches the material your tub is made from. If you are unsure, it's best to consult a professional; resurfacing a tub does require using the right materials for the tub.
In the kit, you usually find sandpaper, cleaner, primer, rollers, brushes, and tray, along with the refinishing paint or gel. These kits typically cost $75 – $150.
Additionally, you should wear gloves, goggles, coveralls, and a suitable mask to prevent breathing in the fumes.
Start by protecting the surrounding areas, such as wall and floor coverings with tarps. Sand the tub thoroughly, repair the cracks, add the primer, paint, and a topcoat, or rub on the gel finish as directed by the kit's manufacturer.
Let each coat of paint dry 10 – 12 hours before applying another, and then let the tub dry for 24 to 48 hours before use. The better you prepare the old surface, the better the new finish will look.
Be careful to wait as long as possible between coats, or you might see roller marks or bubbling. When marring occurs in the undercoats, sand it off and start over, or your finish will be rough. Keep in mind, a DIY kit is usually only good for two to three years.
Hiring a Professional
Hiring a professional will require less time, and the finish will quite likely look better. Plus, a professional refinish typically lasts five to fifteen years.
Professionals can usually mix colors to match whatever you want for your new bathtub. However, since this is not a common procedure, you should check references and even pictures of completed bathtub refinishing projects.
There are different methods used for refinishing, depending on the type of tub you have. Reglazing a porcelain tub and giving a fiberglass tub a new gel finish are two very different procedures.
Therefore, costs for labor will vary, as well as the time it will take to finish the process.
We suggest getting a few estimates to learn more about each contractor's process and ensure you get the best price. In most areas, there are several professionals that specialize in bathtub refinishing services.
Always make sure you find someone that works with the type of tub that you have. This includes not only the material, but also the style.
If you have a vintage claw foot tub, the exterior and interior are refinished using different materials and procedures; make sure you hire someone that works on this type of tub to ensure the best results.
All pricing information on this page is based on average industry costs, and is subject to variance for project-specific materials, labor rates, and requirements.