Cost to Install Landscaping in 2023
The cost of landscaping depends on how you envision your new garden space. Landscaping is the umbrella term used to describe the process of making your garden more aesthetically appealing.
Adding plants, adding a patio, adding a trellis: these are all components of landscaping. We'll cover the most popular options and their costs in detail below.
2023 Landscaping Costs
Calculate local project costs by entering your zip code.
National Average Price
$

5,000

Typical Price Range
$

3,000

- $

15,000

Maximum Price
$

40,000

Typical Price Range (per square foot)
$

7

- $

22
Get free estimates from contractors near you.
---
---
How Much Does Landscaping Cost?
The cost of landscaping is dependent on the elements you intend to introduce. Do you want a garden that is covered in concrete and adorned with a few potted plants? Are you a keen gardener who would like lots of flowerbeds and a rustic feel?
The cost of a landscaping project could range from a few hundred dollars to over $40,000 for a sophisticated design. People usually spend around $10.75 per square foot on landscaping projects, with $3,000 to $15,000 being common ranges for new landscaping projects, although that largely depends on what the project is.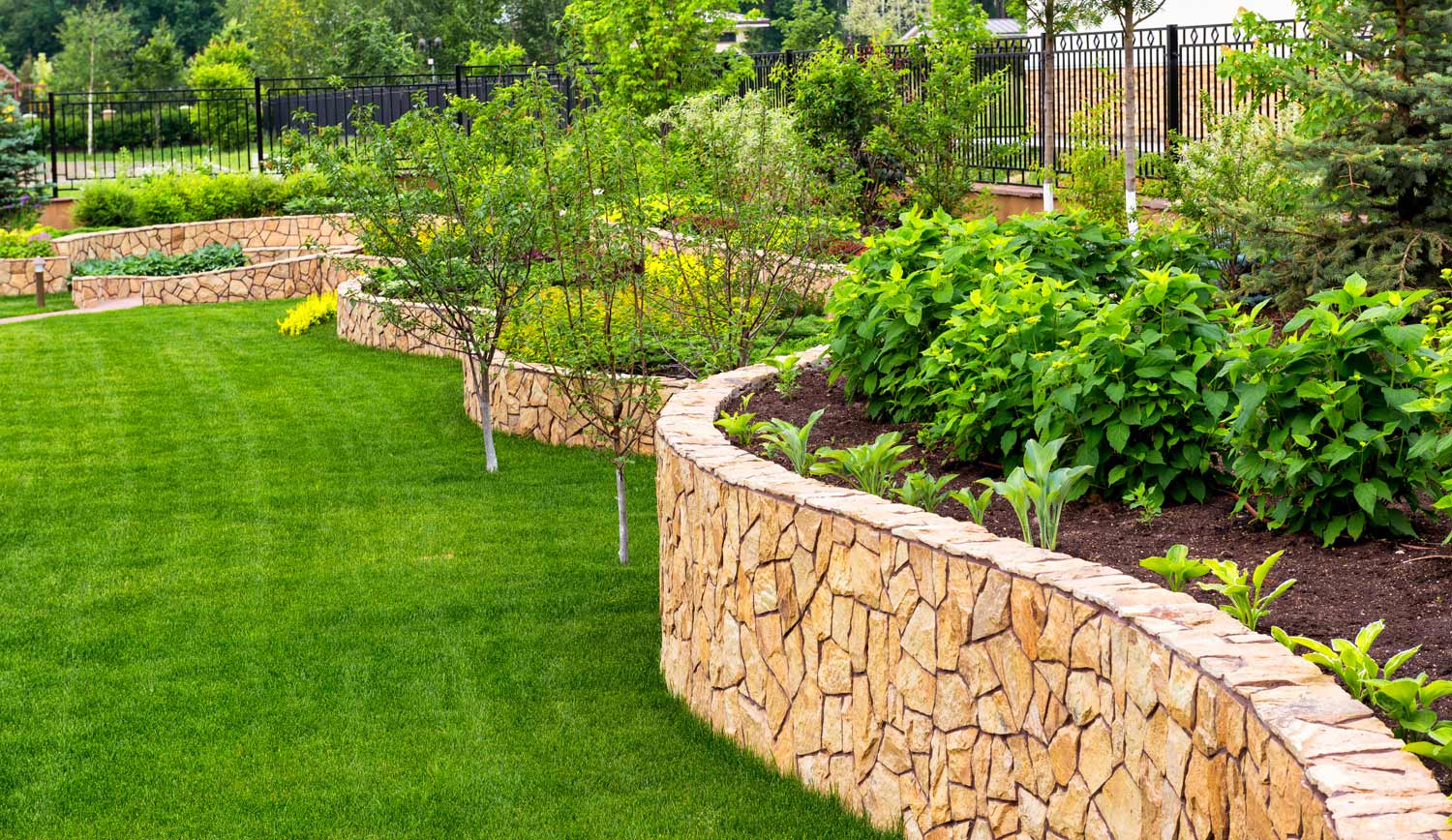 There are limitless options available with regard to how you approach landscaping. Let's examine the cost implications of some of them:
Create a Design
The first step in a landscaping project is to come up with a design for the project. It's important to consult a professional with expertise in landscape architecture and design to create a plan that is not only beautiful, but also accounts for things like irrigation, drainage, and soil composition.
A comprehensive design plan can cost anywhere from $300 to $2,500.[1]
Hardscaping vs. Softscaping
Hardscaping refers to all of the 'hard' elements you wish to introduce into your garden project: patios, gazebos, decorative rocks, fountains, and pathways. These elements are going to be more expensive than what's known as softscaping.
While the costs for hardscape projects vary, most spend $15 to $50 per square foot.
Softscaping is anything that is living or natural, from plants to trees to bushes. Thus, the proportion of hard to soft that makes up your vision for your yard will impact the overall cost. As a general rule, the more hardscaping you have, the more expensive it will be.
However, you might want to consider the fact that softscaping elements will require more care and maintenance than hardscaping ones, so long-term costs can tip the scales a bit.
It's also important to balance hardscapes and softscapes in a landscaping project. A good balance will create an inviting atmosphere and increase curb appeal.[2]
Installing a Patio
Installing a patio is a popular landscaping project as it creates an outdoor living space capable of fulfilling a number of purposes. You might have a dog that you want to keep in a concrete space so that it is easier to keep their area clean. Alternatively, you might be a person or family who enjoys entertaining with barbecues. Patios provide an excellent space for all sorts of outdoor entertaining.
A typical patio often costs $2,500 to $6,600 to install. The cost of a patio starts with measuring the space to find the square footage, selecting a material, and finally multiplying the square footage by the cost per square foot for the chosen material.
Our paver calculator can estimate materials and determine the costs for paver patio projects.
Buying Soil, Mulch, or Rock
Many landscaping projects involve buying soil, mulch, rock, or stone. These include adding flowerbeds, ordering fill dirt for a site that needs leveling, buying mulch for gardening requirements, or buying gravel or crushed stone for aesthetic or practical purposes.
These materials are commonly measured by the cubic yard. To find the cubic yardage and estimate the cost, you need to know three types of measurements for the material in question: the length, the width, and the height of the area you will be filling. These three measurements are necessary components of calculating the cubic yard required for your landscaping project.
Extent of Work
The cost of your landscaping project depends on how much work needs to be done. You might be a homeowner who has been living in the same house for years who wants a bit of life brought back to your garden.
This kind of project, which could include the introduction of a flower bed or restoring patchy areas of grass, will cost a lot less than someone who has moved into a new property that pretty much has a square of mud calling itself a yard.
Alternatively, you may have just bought a new home that already has a landscaped garden that needs a personal touch or two. All of these examples create very different scenarios in terms of what the overall landscaping cost will be.
Popular Landscaping Projects Costs
Now that some common aspects of landscaping have been addressed, it's appropriate to delve further into the actual costs of specific projects. Here are some particular prices for popular landscaping projects for you to consider:
Seeding a Level Area
Seeding the average-sized yard usually costs about $100 to $300 for seed and materials. Hiring out the project and additional prep adds to the price.
Adding Sod
Adding sod to your garden, assuming that you use either nursery sod, Bermuda, or Blue Rye mix, costs $0.80 per square foot, with most people spending $1,500 to $3,000 on sod installation. This does not include the preparation of the soil, however.
Placing Topsoil
Placing 4-inch deep topsoil on a level site costs approximately $19 per cubic yard, while it costs a bit more for an area that is sloped. This does not include the equipment for the task but is priced in terms of the equipment being used.
If done by hand, the costs go up again: about $38 per cubic yard on a level site and $44 per cubic yard on a sloped site. Use our soil calculator to estimate how much soil you'll need.
Most people spend between $250 and $1,000 on adding topsoil.
Placing Soil Amendments
Assuming that you want to improve the look of your soil or add something to it for other reasons, the cost varies depending on the material. Assuming it is being spread by hand, natural wood chip mulch costs roughly $60 per cubic yard, forest mulch $84 per cubic yard, peat loam $90 per cubic yard, and organic compost is nearly $90 per cubic yard. Calculate the amount of mulch to buy using our mulch calculator.
Landscape Stepping Stones
If you want to add interest to your garden space by adding some stepping stones, it is useful to find out the cost of some different sizes of stepping stones. The price of these is per stone and includes labor.
12-inch round stepping stones cost about $2 to $7 each, 14-inch round $3 to $8 each, 18-inch round $5 to $12 each, and 24-inch round are around $8 to $17 each.
The cost variations will depend on the material your stepping stones are made from.
Above are estimates for just some landscaping elements you may want to introduce into your garden. These are a great starting point for homeowners who are undertaking a project and need help doing a budget.
All pricing information on this page is based on average industry costs, and is subject to variance for project-specific materials, labor rates, and requirements.
References
houselogic, How Much Should Landscaping Cost?, https://www.houselogic.com/by-room/yard-patio/develop-a-landscape-plan-to-fit-your-budget/
Lisa Hallett Taylor, What is the Difference Between Hardscape and Softscape?, The Spruce, https://www.thespruce.com/learn-difference-between-hardscape-and-softscape-2736691