Cost to Install Landscape Lighting – 2023 Prices
Landscape lighting designs can add safety, security, and elegant highlights to your new landscaping project. Lights along pathways and motion-activated lights ensure safety and security for your home. Lighting accents around trees, shrubs, and fountains can make even a small yard light up.
You might be wondering how much it might cost to install landscape lighting. We'll go into detail on the most popular options and the average price of each below.
2023 Landscape Lighting Costs
Calculate local project costs by entering your zip code.
National Average Price
$

4,000

Typical Price Range
$

2,000

- $

6,000

Minimum Price
$

500

Maximum Price
$

10,000

Average Price (per light)
$

320
Get free estimates from contractors near you.
---
---
How Much Does Landscape Lighting Cost?
Most people spend around $4,000 for a lighting system with 12 lights, but most landscape lighting projects range from $2,000 to $6,000. Although you can usually figure to pay $80 to $300 per light,[1] some contractors might charge more or less as several factors impact the price of installing landscape lighting.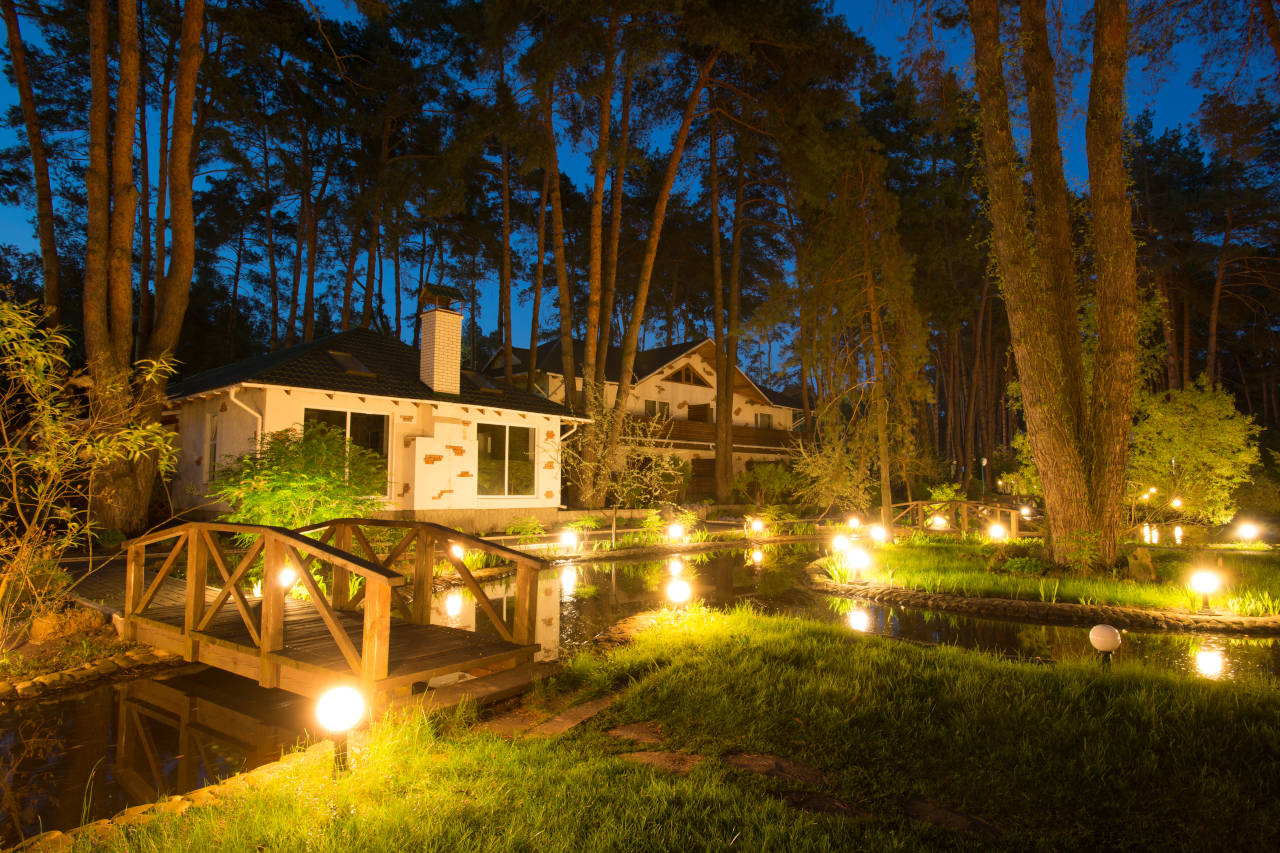 Design Costs
A landscape lighting designer will often charge $200 to $500 to develop a plan and provide you with a detailed illustration for the contractor or to use during DIY. A designer will usually locate the best fixtures to use for the project and locate the best placements for them to give you a great look.
New or Existing Landscaping
When you add lights during a new landscaping project, it will naturally cost less because the lights can get added without worrying about repairs to the landscaping. Plus, it also takes less time because the contractor will not have to dig around obstacles to bury conduit.
It's certainly possible to add lighting to an existing landscape, but because the project takes a bit longer, it will cost a little more.
Halogen or LED Lighting
While landscape lighting once came in several types, the vast majority today use either solar-powered LED lights or hardwired LED lights. LED lights will shine for 35-50,000 hours.
Suppose you use an LED light 12 hours a day for 365 days; that equals 4,380 hours. LED lights also use less energy than some older systems, which results in a lower electricity cost for the new lighting system. Learn more about the costs of LED lighting.
Number of Landscape Lights
The number of landscape lighting fixtures will be a significant driver of the cost of the system. A lighting system with seven to ten lights typically costs $1,200 to $5,000, while a lighting system with twenty lights will likely cost around $10,000.
Transformer Size
The further you or the contractor run the lights from the 110-120 volt to 12VDC transformer, the dimmer your lamps will be. Adding a larger or additional transformer can fix that, or you could choose to let it go. This effect can look natural as the lights get brighter towards the house. A transformer typically costs $200 to $400.
Electrical Requirements
An outdoor receptacle will be needed near where the lighting transformer will be installed. Ground fault circuit interrupters (GFCI) are required for an outdoor lighting project and might not be available, especially in older homes.[2] If a contractor has to hire an electrician to install outdoor outlets with GFCI, it can add $200 to $500 per outlet to your project.
Types of Landscape Lights
The type of lights you choose to use and where you choose to use them can make a remarkable difference. Your home's curb appeal should not lose value when the sun goes down. You can create a "nightlife" with landscape lights.
Pathway Lights
Lights along paths should be subtle but bright enough to light the way. Along the walkway is a perfect place to install solar lights. These can also be used to highlight plants and structures along the path.
Downlights
Downlights shine down onto an object to create a spotlight in order to accent sculptures or brick features.
Uplights
Uplights create silhouettes and shadows from below an object or pond.
Tree or Shrub Lights
Spotlights or targeted lights will highlight trees and shrubbery. Downlights placed within the tree's branches can highlight objects or plants below the tree.
Area Lights
Area lights do not shine on any specific object but provide a vague illumination to an entire area or landscaping feature.
Solar Landscape Lights
Solar landscaping lights happen to be an area that has made tremendous strides in popularity lately. One of the reasons is the low or no cost after installation. In most cases, solar lights will cost you nothing after you put them in place and require little to no maintenance.
However, these need lots of sunlight, so plan their installation out of shaded areas, even if they're along paths and driveways.
Deck or Gazebo Lights
Lights used to highlight specific elements of your deck or gazebo, such as the grill, a faux waterfall, or water cascade can be dramatic. These also add to your guest's safety and keep away intruders while you're not at home.
Need a Professional Install?
Whether you use a designer or draft your own plan, a professional knows how to place outdoor lighting to minimize shadows or highlight objects without so much light your neighbors get upset. Professionals have access to high-quality materials, including fixtures, LED bulbs, and low-voltage transformers, and offer a warranty.
Try our landscaping contractor locator to find landscape lighting professionals in your area. Also, be sure to get as many estimates as possible because labor prices vary widely.
You might also be interested in our landscaping or electrical resources for this project.
All pricing information on this page is based on average industry costs, and is subject to variance for project-specific materials, labor rates, and requirements.
References
Jacquelyn McGilvray, Landscape Lighting Trends and How to Choose What's Right for Your Yard, HGTV, https://www.hgtv.com/outdoors/landscaping-and-hardscaping/how-to-illuminate-your-yard-with-landscape-lighting
Outback Landscape, How Much Will It Cost To Install Low Voltage And LED Landscape Lighting In Idaho?, https://www.outbacklandscapeinc.com/blog/how-much-will-it-cost-to-install-low-voltage-and-led-landscape-lighting-in-idaho