Cost to Install a Ceiling Fan – 2023 Prices and Estimates
Ceiling fans can help make your home more comfortable in the warm weather. Running one while you have air conditioning going can help you make your home cooler while running the AC less.
The cost of installing a ceiling fan will vary, depending on several factors, such as the price of the fan, whether you can use the existing wiring, need to add electric lines, or a separate circuit breaker/panel, labor, the blade material, and additional supports.
Keep reading to learn more about the cost of installing a fan.
2023 Ceiling Fan Costs
Calculate local project costs by entering your zip code.
National Average Price
$

550

Typical Price Range
$

150

- $

2,000

Typical Price Range (per hour - labor)
$

50

- $

100
Get free estimates from contractors near you.
---
---
How Much Does a Ceiling Fan Cost?
Most people spend around $550 to install a new ceiling fan, and the average price range for the project is $150 to $2,000.
A fan usually requires one to three hours of labor for a typical installation, generally costing in the $100 to $600 range for labor. More difficult installations or adding new wiring will likely add to the cost.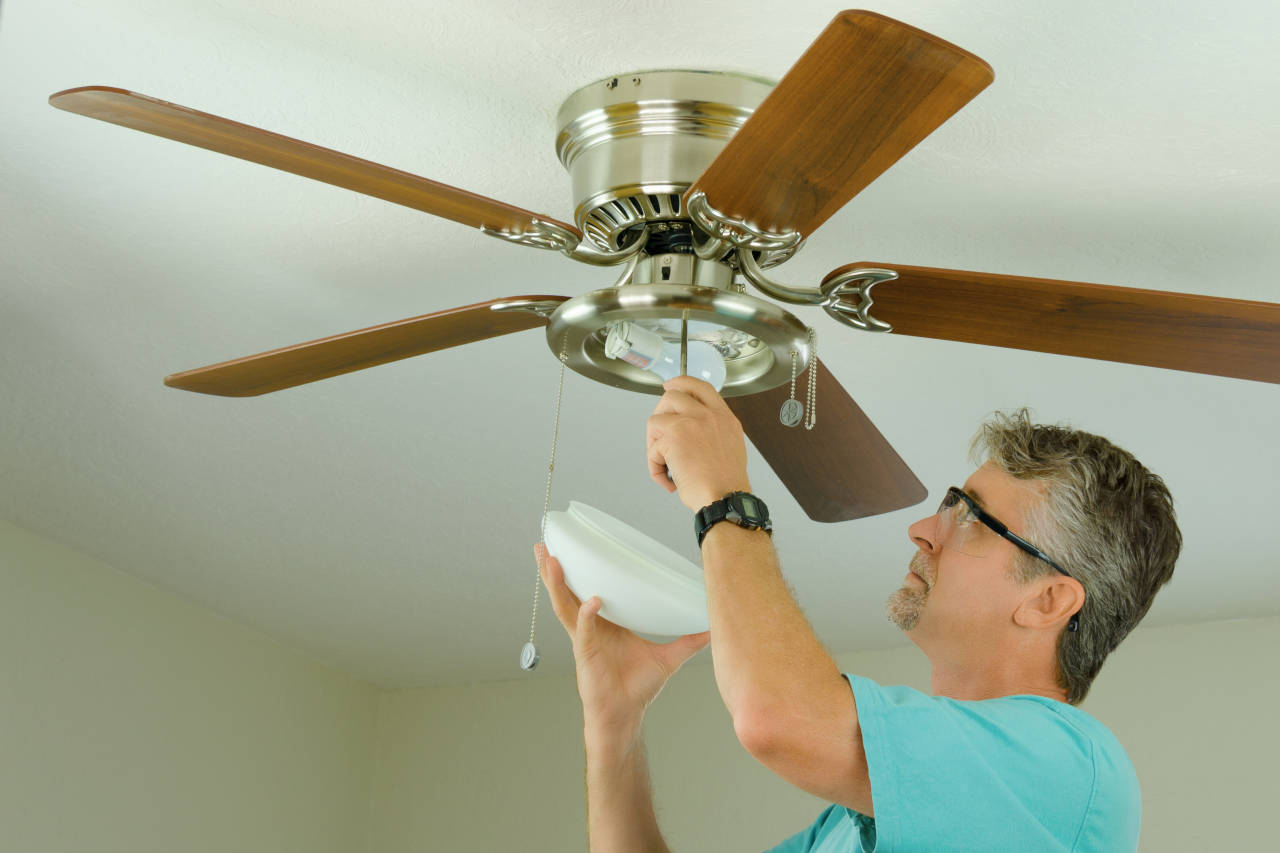 Most people think of a ceiling fan as a means to cool a room without the use of expensive air conditioning. However, you can also use it to redistribute warm air as well. Heat rises and will stay up there.
During the cold winter months, run your fan in reverse or clockwise at a low speed. This simple flip of the switch will gently redistribute the warm air trapped on the ceiling. Warm air is then pushed out toward the walls, down, and back into the room.
Fan Blades & Suitable Room Sizes
How many square feet of space you are trying to cover with your ceiling fan will affect the size of blades needed and, thus, the size of the fan motor and its cost.
Fan blades of 29-36 inches are suitable for rooms less than 75 sq. ft. and cost between $50 to $150 to buy.
Fan blades of 36-44 inches will be acceptable for rooms of 76-144 sq. ft. and cost between $60 to $400.
Rooms with 145-225 sq. ft. require a fan with 44-54-inch blades, priced at $80 to $600.
A room with 226-400 sq. ft. will need 50-72-inch blades at $100 to $1000.
Extreme blade lengths can warp or bend downward over time. They also have a commercial appearance that is unappealing to some homeowners. Therefore, the use of two or more ceiling fans is an alternative if you have a very large room to cool.
Types of Ceiling Fans
There are five types of ceiling fans: standard, low-profile, propeller, directional, rotational, and indoor/outdoor.
Traditional or Standard
These are the fans most often seen in homes with four or five blades and a light. You can buy one for $50 up to $1,000 and get it installed using the existing wiring from a light fixture for another for $100 to $200.
Keep in mind that if you do not have existing wiring, this can add as much as $1,000 to the project.
Low-Profile
A low-profile or flush-mounted fan is best suited for ceilings less than eight feet. These fans typically cost between $80 and $550.
Keep in mind that even low-profile fans do require some space to operate safely. Make sure that you have head clearance room when installing.
Propeller
Propeller fans are suspended from the ceiling using a down rod and are used in rooms with a nine-foot or higher ceiling, and cost $150-1,000.
Propeller fans can be installed on vaulted ceilings or at an angle as well as straight down. Keep in mind that the higher they are located and the more complex the setup, the higher the labor costs will be.
Directional
The installer hangs a directional fan from a downrod to point in the direction the owner wants more airflow. This can be a good choice for large rooms or areas that are far from windows or other air sources.
The cost of this type of fan is typically $150 to $1,500.
Rotational
A rotational ceiling fan has two fans suspended from a downrod, with a bar between the fans which rotate and spin, creating greater airflow. The price of this unique design is $300 to $3,000.
Indoor/Outdoor
There are actually two ratings for indoor/outdoor fans: wet-rated or damp-rated. The wet-rated fan is a perfect fan for use outdoors, as it has waterproof wiring and motor housing.
On the other hand, the damp-rated fan is resistant to high humidity and useful in an enclosed patio or gazebo, but not where the rain or snow will reach it. These fans can be more costly, starting at $300 to $3,000 each.
Fan Mountings
Experts recommend not hanging a ceiling less than seven feet off the floor. However, as the homeowner, you know what your requirements are.
Hanging a ceiling fan over the dining room table is likely not a problem, but be careful changing the tablecloth.
Rooms that have a low ceiling should use a flush-mounted fan or low-profile fan. Use down-rods to suspend ceiling fans in rooms with a ceiling higher than nine feet.
Although the recommendation is to add six inches of downrod for every foot over nine feet, it's the homeowner's discretion.
Many believe a long downrod looks unruly, but you may want the fan low enough to be cleanable. While extending wands for dusters are available, very high fans can be hard to clean easily, and settled dust on a fan can rapidly coat a room once the fan is turned on.
Replacing a Ceiling Fan
When you replace a ceiling fan with one of similar electrical draw and weight, your costs will be lower than if you are installing a new one or installing one in a location not previously wired. If, however, the new fan weighs considerably more, or the current wiring or circuit breaker is not sufficient, you might need a new fan support bracket, a separate circuit breaker, or perhaps even a new electrical panel, which could drive up the cost.
How to Find an Electrician
It's generally recommended to use a professional and licensed electrician to install your new fan. We suggest getting at least three estimates for the project to allow you to select the electrician that's right for your project. Try our electrician locator to find a pro in your area.
You might also be interested in our other electrical calculators.
All pricing information on this page is based on average industry costs, and is subject to variance for project-specific materials, labor rates, and requirements.