Cost to Install Built-in Cabinets – 2023 Average Prices
Built-in cabinets are an attractive method for storing anything from books to audio/video gadgets and much more. Built-in cabinets can help you use your space more efficiently and can help you make use of every inch.
Because they are built for your space, rather than readymade, you can ensure a perfect fit every time, not only with your area but also with your style and your storage needs. Continue reading below to learn more about what impacts the pricing of built-in cabinetry.
2023 Built-in Cabinets Costs
Calculate local project costs by entering your zip code.
National Average Price
$

3,000

Typical Price Range
$

1,400

- $

10,000

Minimum Price
$

500

Maximum Price
$

15,000

Typical Price Range (per hour)
$

50

- $

100
Get free estimates from contractors near you.
---
---
How Much Do Built-in Cabinets Cost?
On average, homeowners spend $3,000 on a set of built-in cabinets. However, depending on several factors, most people pay anywhere from $1,400 to $15,000, but the average price range is around $450 per linear foot of cabinets installed, plus extra costs such as changing doors for drawers, inserting cabinets into walls, or adding moldings.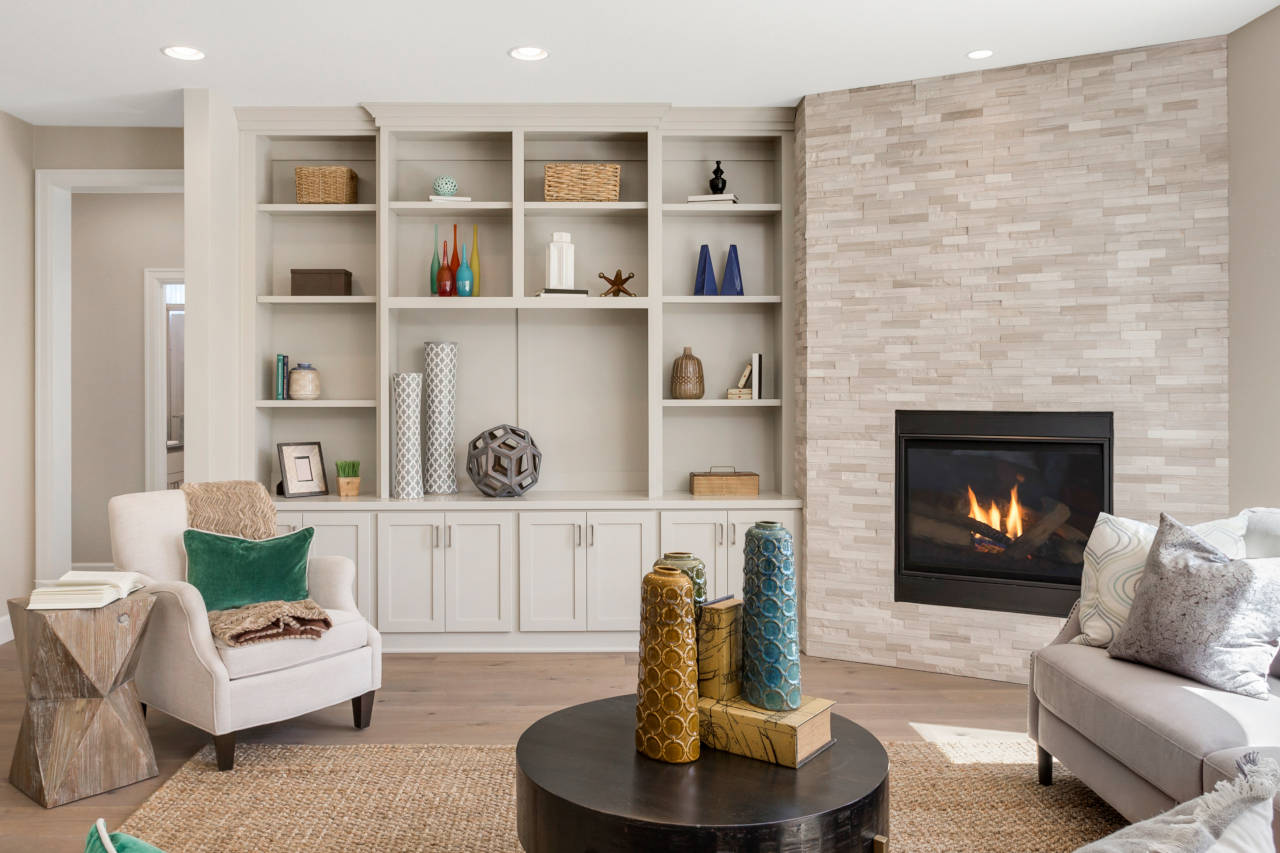 Built-in Cabinet Cost Factors
Several factors will affect how much you pay:
Carpentry Labor
The most significant expense of cabinet construction is typically labor, though when you use cherry, walnut, or another high-quality, high-priced wood, it might be the materials.
Labor for cabinet makers and carpenters will usually be higher than that of the average handyperson. Cabinet Makers often charge $50 – $100 per hour for fabrication and around $100 to $250 per cabinet for installation. This rate varies greatly depending on where you live and the skill level of the craftsman.
Carpenters and cabinet makers typically have a high level of skill that they have acquired over many years of building cabinets.
Material
The wood you use is usually the second-highest expense. Although plywood veneer, pine, and poplar are inexpensive, cherry, oak, and walnut can be costly, but you must consider what you will put on the shelves.
Larger built-ins will require more material, which will drive up the price accordingly.
Exotic woods or ornate detailing will also drive up the cost of materials. The table below shows the difference in price per board foot for various varieties of hardwoods.
Average prices per board foot of various wood species used in cabinet-making

| Wood | Average Price per Board Foot |
| --- | --- |
| Birch | $7 – $10 / bd ft |
| Hard Maple | $4 – $12 / bd ft |
| White Oak | $5 – $7 / bd ft |
| Walnut | $12 – $15 / bd ft |
| Poplar | $4 – $5 / bd ft |
| Cherry | $5 – $9 / bd ft |
| White Pine | $2 – $3 / bd ft |
Need help estimating the board footage of your cabinet project? Try our board footage calculator.
Design
A designer might charge $350 – $500 to draw your plans, depending on how elaborate you want your built-ins to be. This cost usually includes the initial meeting where measurements will be taken.
During this time, you and the designer will work together to come up with the cabinet plan. Many cabinet makers will be able to draw up a basic set of plans free of charge, so be sure to ask if this will factor into the cost of your project.
Accessories
The type of accessories and hardware you might want on the cabinets include glass, molding, knobs, pulls, hinges, electrical outlets, lights, and fixtures – all of which will affect the price.
For example, adding crown molding or base molding may add as much as $250 per 8 feet. Pull-out shelves may cost $270 each, while changing from a door to a drawer will increase the cost of that unit by roughly $300.
Finish
Another sizable expense of a cabinet project is the finish. A couple of coats of clear finish is the most cost-effective option, but adding a coat of stain or wax will drive up the price.
The type of finish is also a determining factor in the material choice as well. For instance, when using enamel paint instead of a stain, poplar or pine can be used, which are more affordable than species such as cherry or black walnut.
Finishing the cabinets yourself is a great way to reduce the cost of the project if you're up for the task.
Common Built-In Projects
There are several familiar built-in cabinets for living rooms and media centers.
Entertainment Centers
The built-in entertainment center typically has a focal point of the big-screen TV and the audio/video equipment. A 12′ by 10′ oak wood entertainment center with shelves, doors, and accessories costs between $5,000 and $15,000 to have custom-made and installed. Expect to pay $2,000 to $12,000 for the materials and 24 – 48 hours of labor.
If you use an average figure of $75 an hour for a carpenter or cabinet maker, that's $1,800 – $3,600. Adding an entertainment center can add value to your home and means you need to purchase less furniture for the space, which helps offset the cost.
Dining Room Cabinets
A Built-in china cabinet in your dining room can save you a lot of space. Typically, dining rooms are only big enough for your table and chairs and not much more. You could build a DIY built-in for $500 or pay a cabinet maker or carpenter around $5000 or more, with a going rate of $1,000 a linear foot for this type of work.
A china cabinet can also be built to blend seamlessly with your kitchen design. Learn more about the cost of kitchen cabinets.
Bookcases
The complexity of the design, the size, the chosen material, and where you want it will determine how much you spend on a set of built-in bookcases. Costs typically range from $1,200 to $4,000, depending on size, area, and design.
Many people are choosing to put bookshelves in window nooks or alcoves. This concept is a wise, as well as attractive use of space, especially in old Victorians with dormer-type windows.
Media Rooms
It's becoming common to see media room built-ins cover entire walls and feature recessed lights and bookshelves. They often feature more door-concealed shelves on the bottom to store all your DVDs, video games, and projectors, along with anything you want to keep out of sight.
The cost of these is on par with a large entertainment center, and the price goes up with the size and complexity of the unit. Average costs range from $5,000 to $15,000 for a standard display; costs can reach as high as $30,000 for cabinets with lots of extras.
Entryway Shoe, Coat, & Hat Built-In Cabinets
One of the most cluttered areas seen by visitors is the entryway. Designing and building a "locker room" type built-in for your entryway can eliminate the clutter and get you a much-deserved "attaboy" or "attagirl" from your partner or spouse. Plan on spending $1,500 to $6,000 on mudroom benches and lockers.
Hiring a Designer & Contractor
You could request an estimate to design and build or buy pre-made cabinets and hire someone to install it. Built-ins typically come in stock, semi-customized, and fully customized, just like any other cabinet, unless you are working with a carpenter who will be building the cabinets to order for your space.
Keep in mind that while stock cabinets can keep costs down, they don't always make a good fit, especially for oddly shaped or sized rooms. Semi-custom can let you blend stock and custom pieces to help keep costs down as well, while fully custom will get you exactly what you need, but at the highest costs.
Ask for estimates on our free estimates for carpentry page to get several hassle-free estimates from professional cabinet makers and carpenters in your area.
All pricing information on this page is based on average industry costs, and is subject to variance for project-specific materials, labor rates, and requirements.