Cost to Seal an Asphalt Driveway – 2023 Prices
Asphalt driveways should be resealed every three to five years of use. This will help minimize cracking and staining, protect your driveway from the elements, prolong its life, and add to your home's curb appeal.
Keep reading to learn more about the cost to seal a driveway.
2023 Asphalt Driveway Sealing Costs
Calculate local project costs by entering your zip code.
National Average Price
$

500

Typical Price Range
$

250

- $

600

Minimum Price
$

150

Maximum Price
$

1,350
---
---
How Much Does it Cost to Seal a Driveway?
The national average to seal an asphalt driveway is $500. However, it could cost you as little as $150 or as much as $1,350. The typical range for a professionally sealed driveway is $250 to $600. Adding sealant for walkways, patios, and basketball courts will increase the price.
Given that a new asphalt driveway costs $5,000 on average, sealing it to keep it in good condition is a worthwhile investment.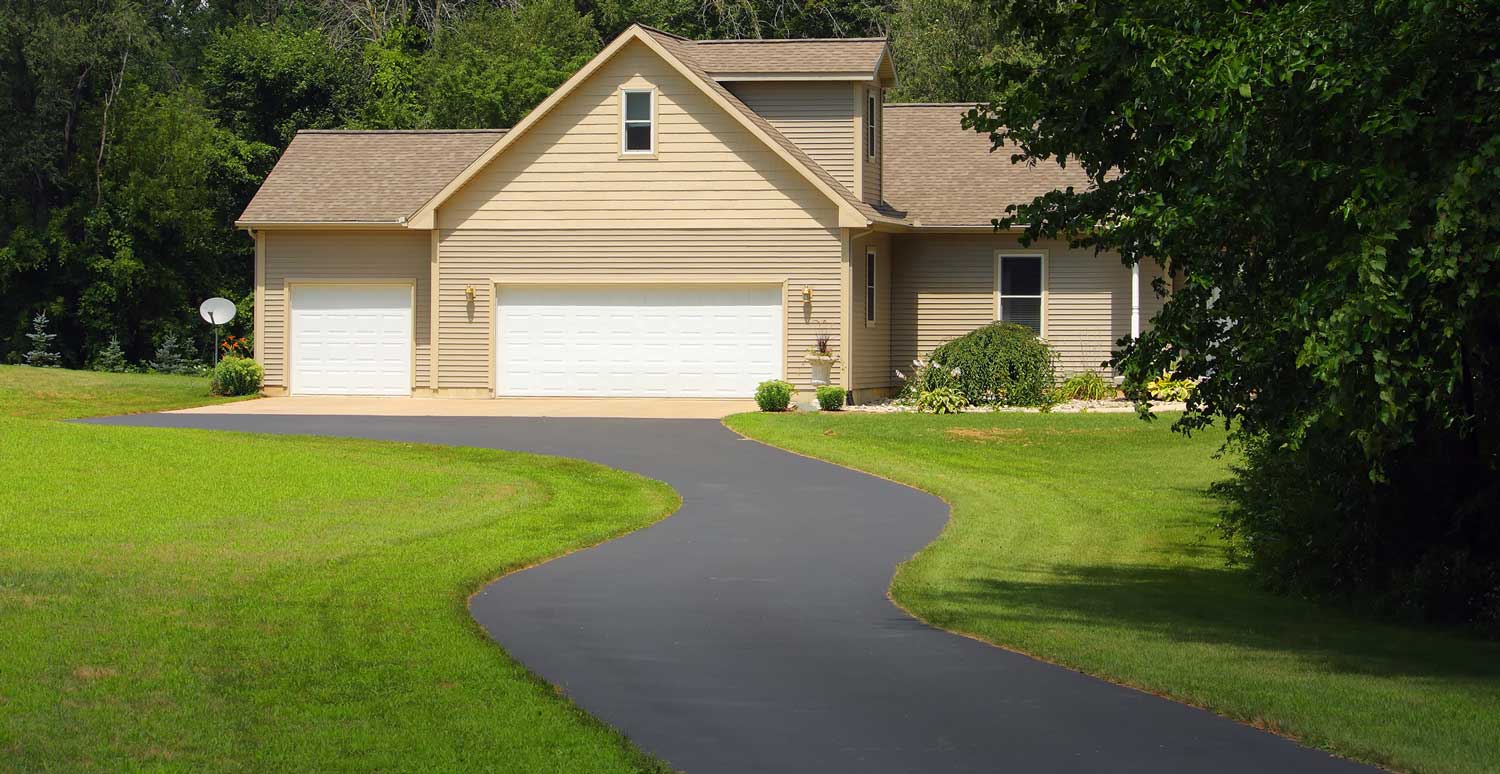 The most significant effect on the price to seal your asphalt driveway is the size. Most sealing professionals price their services by the square foot. You can find the size of your driveway in square feet using our square footage calculator or asphalt driveway calculator.
From there, you will be able to determine how much sealant and other materials you will need to complete the project if you are planning a DIY project, or how much you should pay a professional based on the price per square foot.
Asphalt sealant is usually available in five-gallon buckets and costs between $.06 and $.40 per square foot of coverage. The typical two-car driveway is 24′ x 20′, and the price to seal it depends on how much preparation is required, how many coats, the type of sealer used, and whether you DIY or hire a professional.
Types of Sealant to Use
There are basically five types of asphalt driveway sealants: fast-drying, polymer emulsion, coal tar, latex acrylic, and eco-friendly. Each has advantages and disadvantages that you should consider, and the price is one of the main factors.
Although these sealants come in five-gallon buckets, there are typically 4.75 gallons of sealant.
Fast-Drying
One of the apparent advantages of a fast-drying sealant is how quickly you can use your driveway, patio, or walkway after application. A walkway or patio can normally get used after an hour or two, depending on the weather, and it can get driven on after one day.
This sealant usually needs to get resealed after only two to three years but costs about $40 – $95 per five-gallon bucket, which covers 450-475 square feet.
Asphalt Emulsion
This sealant is more durable and eco-friendly than the fast-drying sealant. It must be applied in warm to hot weather, is subject to oil and gasoline stains, and costs $.08 – $.10 per square foot of coverage.
One five-gallon bucket is $85 to $100. Professionals typically buy the 55-gallon container for $550.
Coal Tar
This sealant is one of the most popular choices for homeowners. It doesn't stain as easily as the polymer emulsion, but it is one of the worst for the environment, as it emits pollutants and carcinogens. It costs about $.06 – $.10 per square foot, or $37 – $60 for a five-gallon bucket that covers 500 – 600 square feet.
Latex Acrylic
Latex acrylic is a synthetic mix of polymers and acrylics, most often used by professionals. It is supposedly not harmful to the environment and does not stain easily.
Latex acrylic is often the priciest option for seal-coating, however, it lasts the longest, not needing to be resealed for five to 10 years.[1] It costs $.20 – $25 per square foot or about $100 – $110 for a five-gallon bucket.
Eco-Friendly
This sealant is the best for the environment but the most expensive at $165 for a five-gallon bucket that covers 400 – 500 square feet, or about $.38 per square foot.
There are several types, all are non-toxic, and many use soy-based ingredients rather than petroleum. They last roughly as long as standard types of sealant.
Tools Needed for a DIY Sealant Application
Tackling seal-coating yourself could save you around $200 or more, with most professionals charging an average of $1.10 per square foot to seal the average driveway.[2] If you're planning on doing the project, you'll need to ensure you have the following tools.
A high-pressure washer and soap
One quart of spot primer
A seal-coating broom or applicator
A mixing stir stick or paddle
Sealant, depending on the square footage, to cover a number of coats
Renting a power wash machine is one option that will cost $50 – $120 per day. However, another choice is to buy a pivot jet extension for your water hose, which costs $30 – $60. This extension cleans out the cracks in your driveway before filling those with asphalt crack filler.
Crack filler ranges from $5.00 for a tube that fits a caulking gun to $25 for a gallon at most hardware supply stores. The total for all this should be around $150 to $200 without the sealant.
Professional Application Costs
Asphalt sealing professionals typically charge $35 – $50 per hour for the preparation and application of driveway sealer. Since prepping and sealing a 480 – 500 square foot driveway takes two people eight to twelve hours, labor will cost about $280 to $600.
The cost of labor will vary by region, and where you're located will have a direct impact on how much the service will cost.[3] In addition to economic factors, the amount of supply and demand of seal-coating pros in your area or time of year will impact the price as well.
The following are three factors that could affect how much you pay:
Accessibility
Patios and walkways included in your sealant project that are not accessible to the contractor will cost more to seal. This will also be true for very steep driveways.
Cost Per Coat
When you request two coats, the second coat will not cost as much per square foot as the first. However, it will require the landscaper or contractor to wait 24 hours to come back and add a second coat, which will add to your overall price per square foot.
Residential driveways, patios, and walkways should not require two coats, but that is a personal choice.
Enhancements
Professionals can make your sealer different colors and add sand to make your driveway less slippery in cold weather.
Hiring a Professional
When you decide to hire a professional to seal your asphalt driveway, we suggest getting several estimates for the work, compare their prices against their statements of work, and choose a licensed professional who offers a warranty.
All pricing information on this page is based on average industry costs, and is subject to variance for project-specific materials, labor rates, and requirements.
References
Joseph Truini, How to Seal and Protect Your Driveway, Popular Mechanics, https://www.popularmechanics.com/home/outdoor-projects/how-to/a8150/how-to-seal-and-protect-your-driveway-12892848/
Family Handyman, How to Seal an Asphalt Driveway, https://www.familyhandyman.com/project/how-to-seal-an-asphalt-driveway/
Jay Leone, Typical Costs of Asphalt Sealcoating, Sciencing, https://sciencing.com/typical-costs-asphalt-sealcoating-8608346.html