Vinyl Fence Material Calculator and Price Estimator
Estimate the amount of vinyl fence materials needed for your project, including vinyl panels, posts, and concrete. The calculator will also generate a price estimate for the materials and locate post center measurements.
Material Estimate:
End Posts: 2 5" x 5" end posts
Line Posts: 11 5" x 5" line posts
Post Caps: 13 5" x 5" post caps
Panels: 12 8' wide panels
Concrete: 13 bags

Estimated Material Cost:
$1,081 - $2,450
*Estimate only - costs vary by location/vendor, selected material, and quantities.
Total Length: 100'
Panel Width: 8'
Number of Posts: 13
Distance Between Post Centers: 8' 5"

Pro Tip:
Post levels can make the job of installing fence posts much easier
Post Level
---
---
How to Estimate Vinyl Fence Materials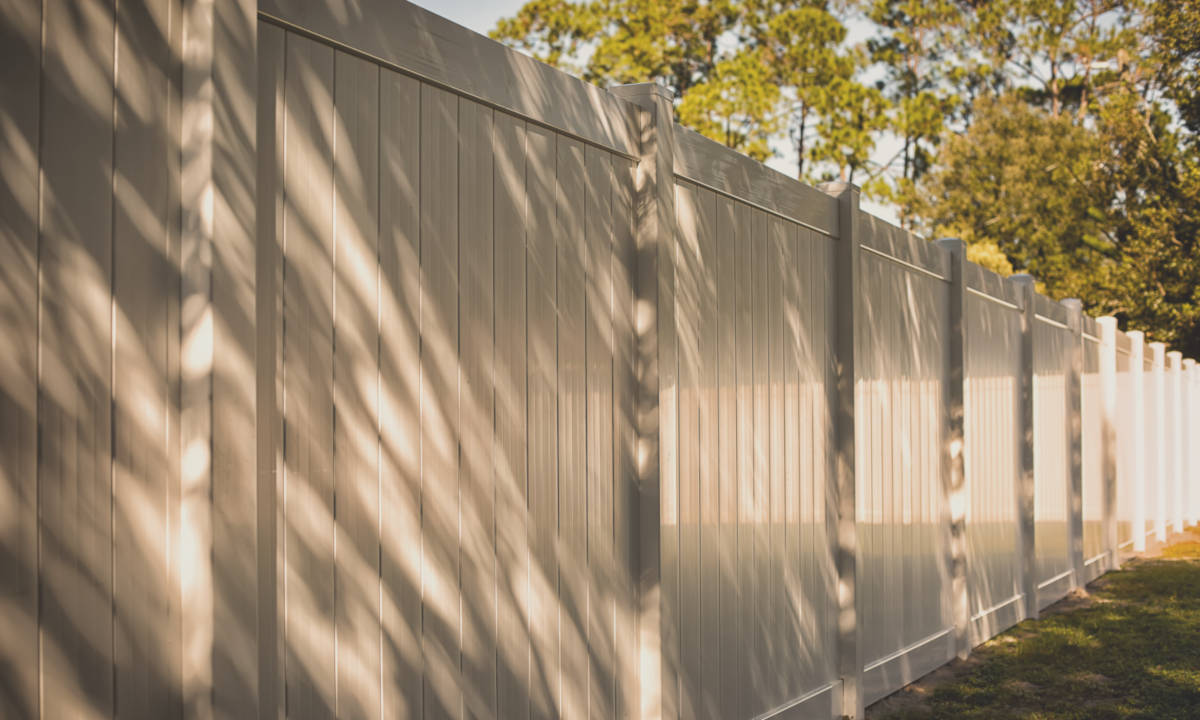 When estimating the material needed for a vinyl fence it is important to first select the style of fence to install and choose the type of panel being purchased. Different vinyl fence manufacturers have slightly different parts needed to install their system, but most only require posts, post caps, and panels that get mounted between the posts. See the most popular fence panels available.
Get Free Project Estimates
Find Qualified Fence Professionals in Your Area
How Many Vinyl Fence Panels Do You Need
Finding the number of panels needed for a vinyl fence installation is a pretty simple process, but you need to know the length of the panel you're using first and the length of each section of fence between each corner. The general process will be to find the number of panels needed for each section of fence, and then add the total for each section together to find the total number of panels.
The number of panels in a section is equal to the length of the section in inches minus the width of the post divided by the length of the panel in inches plus the post dimension. For example, find the number of panels for a 100′ stretch of fence using 8′ panels and 5″ x 5″ posts.

Convert measurements to inches:
100′ × 12 = 1200″
8′ × 12 = 96″

Find the number of panels:
(1200″ – 5″) ÷ (96″ + 5″) = 11.83
1195″ ÷ 101″ = 11.83

Round up:
11.83 rounded up = 12 panels
How Many Vinyl Fence Posts Do You Need
Before estimating the number of vinyl fence posts for your installation, determine the number of ends and corners you will need. Vinyl fence posts come in 3 different types, end posts to use at the end of the fence, corner posts for joining fence panels at a 90° angle, and line posts for joining fence panels at 180°. You will need 1 corner post for each corner of the fence and 1 end post for each end of the fence. Once you know the number of ends you need and the number of corners, the final step is to find the number of line posts needed.
The number of posts is generally equal to the number of panels plus 1 for the end. This is because every panel will connect to a post and then add a post to connect the next section. The final post will need an end post, which is why the extra post is added. To find the number of line posts, subtract the number of corner posts and end posts from the panels + 1 measurement. For example, find the number of posts for a fence with 12 panels, 1 corner, and 2 ends.

12 panels = 13 total posts
1 corner = 1 corner post
2 ends = 2 end posts
13 total posts – 1 corner – 2 ends = 10 line posts
It's important to note that a vinyl post cap will be needed for each post, and they are usually sold separately. In our example we would need to order 13 post caps in addition to the posts.
How Much Does a Vinyl Fence Cost
Vinyl fence materials range in price based on the style of fence, height of the fence, and quality of materials. The average 6′ vinyl privacy fence costs $25-$35 per ft2. Get an estimate for your fence installation from a local installation pro.
If you know how much material you need you can easily estimate the price of a vinyl fence. One option to get a material price estimate is to get a quote from a home center or supplier based on your materials. Another option is to find the price of each style of post, post caps, and panels. Multiply each price by the quantity needed, then add together to find the total cost of materials.
Are you installing a wood fence, see our fence calculator to learn more.
Next Step
– After estimating materials it's time to begin laying things out. Learn
how to lay out a fence safely and efficiently
, including how to avoid buried utilities, center your posts and panels, and get perfectly square corners.