How Much Does Installing a Laminate Floor Cost in 2019?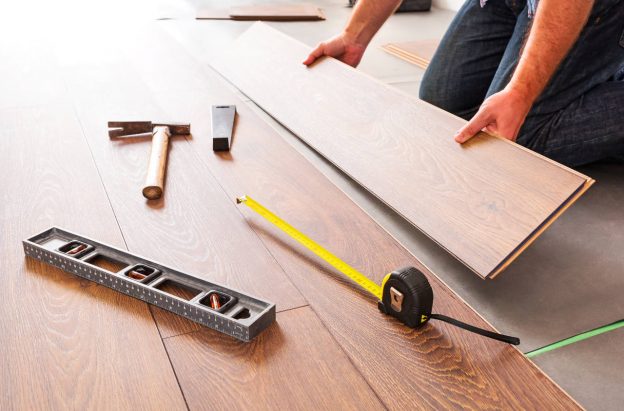 2019 Laminate Flooring Costs
Calculate local project costs by entering your zip code.
National Average Price
$

2,500

Typical Price Range
$

1,500

- $

4,500

Minimum Price
$

500

Maximum Price
$

14,000

Typical Price Range (per square foot - installed)
$

3

- $

11
Get free estimates from contractors near you.
---
---
Laminate offers the beauty of hardwood flooring often at a fraction of the cost. In addition, it's ease of installation means that most homeowners opt to tackle a laminate installation themselves.
It comes in many different styles, colors, and textures, and can even be made to look like tile or marble flooring. Cost of a laminate floor installation depends on the cost of the material, supplies, labor, floor removal, and trim work.
Average Laminate Flooring Cost
Homeowners often spend $1,500 to $4,000 to install a new laminate floor, though the price varies for every project. Project size, laminate pricing, labor, supplies, floor removal, furniture moving, and tool rental can all affect the cost of the project.
The best way to get an accurate price of the new floor is to get a few quotes from local flooring professionals. We'll also go more in depth into what impacts the price of a laminate floor below.
Laminate Pricing
Laminate flooring ranges in cost from $.75 to $2 per ft2 for thinner products and $2 to $4 per ft2 for thicker, premium products. Laminate ranges from 6mm to 15mm in thickness, and thicker products typically cost more but offer a more durable and substantial floor.
According to BuildDirect, walking on a thicker laminate floor feels more like walking on a solid wood floor. Keep in mind that a thicker product may also be more difficult to install and may present installation challenges around doors and appliances.
Find out how much laminate you will need for your project and estimate your material cost using our flooring calculator. We also recommend ordering 5% to 10% extra material to account for cuts and waste.
Installation Labor Pricing
Labor to install a laminate floor usually runs $2 to $7 per ft2. The cost of labor will vary based on complexity of the project and variances in the local labor rate.
For example, a room with a complex layout which requires a lot of cuts will take longer to install than a square room, so the cost per ft2 will be higher. Find out how much flooring costs to install in your area.
Other Laminate Installation Costs
There are other factors that affect the cost of a laminate floor installation. Laminate floors need an underlayment and vapor barrier between the subfloor and the new floor. Note that some flooring product comes with the underlayment attached and don't require purchasing a separate product.
To install laminate the floor must be almost perfectly level. In many homes, especially older homes, there are dips and high spots in the floor that will affect the quality of the installation. Leveling the floor will add to the cost of the installation.
There is a cost associated with removing and disposing an existing floor, so consider that cost when estimating your project. Removing carpet, for example, can cost up to $1 per ft2. If you choose to take this task on yourself remember that the floor still needs to be taken to the dump.
Homeowners often overlook the challenge of moving furniture for a flooring project. All furniture needs to be moved for the project. You may need help moving furniture or even possibly storing it temporarily if you dont have space to store it locally.
Why Laminate?
Laminate usually looks just as beautiful as a real hardwood floor, but usually costs much less. Laminate also has a factory finish that more durable than hardwood and does not require finishing.
On top of that, laminate is easier to install than hardwood since it is a floating floor that does not need to be nailed or glued down like typical hardwood products and it does not need to be finished.
How to Save Money on Your Laminate Flooring Installation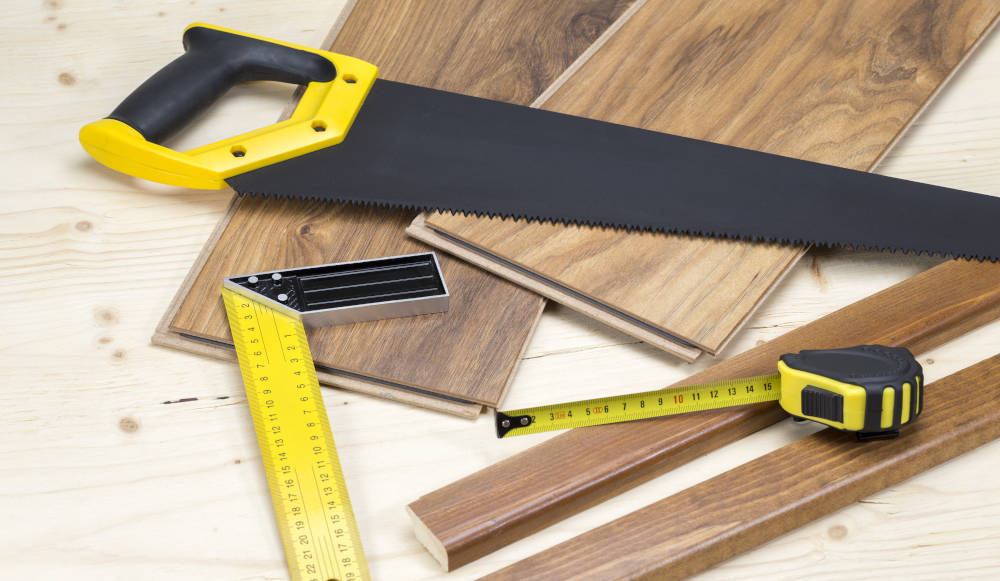 There are several ways to save some money on your laminate flooring. First, when a supply of laminate is discontinued and no longer manufacturered the remaining supplies may be sold at a discount.
Overstock resellers often sell these types of products. Note that it may be difficult to get additional product later if needed. Keep the eye out for promotions and sales as some sellers occasionally offer discounts on product and installation.
Another way to save some money on your floor is to try installing it yourself. Many homeowners opt to install a laminate floor themselves, pocketing the cost of labor.
Learn more about how to install a laminate floor yourself. Finally, get 3 installation estimates to find the most competitive price.
Is the Cheapest Laminate Worth It?
Many sellers offer budget products at significantly lower cost than average, which is very attractive from a budget perspective. Often these products may be just fine, but consider that they may have some drawbacks.
Budget laminate is usually thinner, which may not feel as sturdy when walking on it. Some products may be more difficult to install, adding time and/or cost to the project.
Budget laminate may not have a high AC rating and may wear more quickly than more expensive flooring. With that said, budget flooring may be perfect for your project so don't rule it out.
Laminate Flooring Abrasion Criteria Ratings
The European Producers of Laminate Flooring developed an Abrasion Criteria, or AC, rating. This rating is used to indicate the strength and durability of flooring products. Specifically, the ratings indicate a product's resistance to impacts and abrasion of. The ratings range from AC1 to AC5, with the higher numbers being a better rating.
AC Rating Descriptions
Abrasion criteria (AC) ratings and the intended use-cases for each

| Rating | Description |
| --- | --- |
| AC1 | Light residential use in areas with infrequent traffic, ie. in a bedroom |
| AC2 | General residential use in areas with moderate foot traffic, ie. in a living room or dining room |
| AC3 | Heavy residential use or light commercial use, ie. in a kitchen or a small office space |
| AC4 | General commercial use with moderate foot traffic, ie. an office space |
| AC5 | Heavy Commercial use in high traffic areas, ie. a department store or restaurant |
Major Laminate Flooring Manufacturers
There are several companies that manufacture laminate flooring. Major manufacturers include Pergo, Armstrong, and Mannington. Pergo created the concept of laminate flooring and continues to be one of the most popular brands for flooring today.
All pricing information on this page is based on average industry costs, and is subject to variance for project-specific materials, labor rates, and requirements.